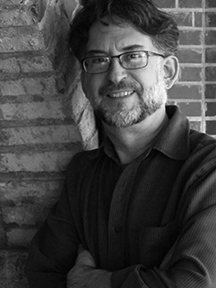 Brief Biography
Born in Winnipeg, Manitoba, CANADA, Paul William Leathers completed his undergraduate studies in jewellery and metalsmithing at Sheridan College's School of Crafts & Design (Dip. Applied Arts) and the Nova Scotia College of Art & Design (BFA), and his graduate studies in sculpture at the University of Calgary (MFA). As well as presenting lectures and workshops in Canada, Malta, Australia, England, Denmark, and China, he has taught at the Alberta College of Art and Design, Calgary, the University of Calgary, the Kootenay School of the Arts, Nelson, and Sturgeon Heights Collegiate, Winnipeg.

Inducted into the Royal Canadian Academy of Arts in 2006, Paul is an internationally exhibited, award-winning studio metalsmith whose practice includes contemporary jewellery, small-scale functional objects, medallic art, and installation-based sculpture. The recipient of grants from the Canada Council, the Manitoba Arts Council and the Alberta Foundation for the Arts, he has exhibited his work in Canada, the USA, Norway, Germany, Australia, and China. He has served on numerous visual art juries as well as on the Governing Council of the Royal Canadian Academy of Arts, and the Boards of Directors of the Manitoba Crafts Council (President, '86–'88), the Crafts Guild of Manitoba, and the Manitoba Jewellers' Association.

Leathers researches and instructs in the areas of design process, craft history and theory, gemmology, digital photo-documentation, and innovative metalworking techniques that include emergent digital technologies. His work deals with strategies of attraction, inventing evocative forms that use light and materiality to re(locate) the viewer. His conceptual plans are generated out of the investigation and application of non-Albertian visual systems (parallax theory, anamorphosis, type B-2 fascination) that explore the objective relationship between viewer, viewed and viewpoint. His artworks both reveal and subvert the primacy of the eye while engaging the viewer as an active participant.

Paul currently maintains his full-time studio practice in Red Deer, Alberta.


Registered trademark (PWL):




website imagery: © paul leathers 2004–2021, except as noted



SERIES: Small-Scale Bronze Casting


Paul often teaches a five-day course in Small-Scale Bronze Casting at Red Deer College's SERIES: Summer School of the Visual Arts. For more information and to register please contact RDC Continuing Education directly.

Jewellery Making:
Lost Wax Casting
and
Gem Appreciation


Paul often teaches ten-week evening courses in the ancient technique of lost wax casting as well as gem appreciation for Red Deer Culture Services. For more information and to register please contact them directly.

Photo-documenting Three-dimensional Artworks


Paul is available to lead workshops on photo-documenting three-dimensional artworks. Please e-mail for more information.