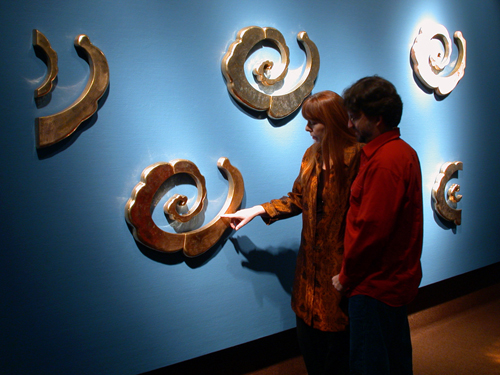 (Chinese Cloud Spirals) 3D Wallpaper: multifired ceramic with 24kt gold lustre.
© Trudy Golley, 2007. Collection of the Alberta Foundation for the Arts



CONFLUENS: Flowing Together



We find it familiar to consider objects as useful or aesthetic, as necessities
or vain indulgences. We are on less familiar ground when we consider objects
as companions to our emotional lives or as provocations to thought. The notion of
evocative objects brings together these two less familiar ideas, underscoring the
inseparability of thought and feeling in our relationship to things.
We think with the objects we love; we love the objects we think with.

CONFLUENS: Flowing Together continued our ongoing explorations of light, material and vision, wherein light is used to attract and re(locate) the viewer, to provide an unexpected sense of discovery, and to address notions of conceptual and intellectual illumination. We are both interested in how such elements may be brought into conjunction in order to create novel experiences for the viewer to encounter. In past artworks we have used alternate materials to both attract and hold the viewer's gaze in order to collapse their experience and perception of spatial distance. Rather than the disconnected experience of the observer, the viewer activates a (direct)ed physical relationship with the artworks.


We were thrilled to have been asked by Glenn Allison, the Thunder Bay Art Gallery's Curator, to mount an exhibition surveying our collaborative artworks as part of the TBAG's celebration of the national Craft Year 2007. Glenn was interested in focusing on the nature of our collaboration and, specifically, our ongoing series of ceramic and metal 'reliquaries'.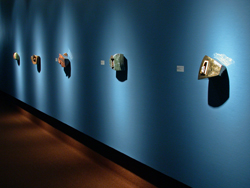 We mold clay into a pot,
but it is the emptiness inside
that makes the vessel useful.

... We work with the substantial,
but the emptiness is what we use.


In its most basic iteration, the word reliquary refers to a vessel or container for a precious object. Traditionally used to house the relics of a Saint or holy person, we took a broader approach in our exploration. Our collaborative Reliquary series began with the preparations for Rub(icon), our exhibition at <SITE> Gallery, Winnipeg in the summer of 1998. We were married in the ruins of the Trappist monastery in St. Norbert, Manitoba before heading off to our exhibition opening/wedding reception. With these artworks, a multi-fired ceramic container houses a removable metal or mixed-media brooch. Hanging on the wall, the two parts function together sculpturally as a complete aesthetic object. On approaching the artwork and removing the brooch for 'an evening out', the viewer enters into a relationship with the two elements—thereby activating their use value as wearable ornament and expectant empty vessel. This flip-flop between the theoretical traditions of the Art/Craft Worlds interests us. Rather than being marginalised as one or the other, these objects offer an integrated and expanded field of interpretation.

The exhibition included a survey of collaborative reliquaries from 1998 to the present.





(rusty) Reliquary: multi-fired ceramic with removable metal brooch. TEG/PWL, '98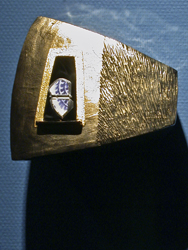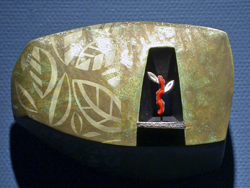 (l.) (JDZ) Reliquary: multi-fired ceramic with removable Sterl. and 'porcelain' brooch. TEG/PWL, '07
(r.) (sylvan) Reliquary: multi-fired ceramic with removable Sterl. and acrylic brooch. TEG/PWL, '07


Recent and open-ended artworks also included;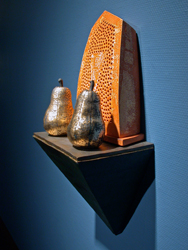 Pear Sconce: multi-fired ceramic with gold leaf. Trudy Golley, '07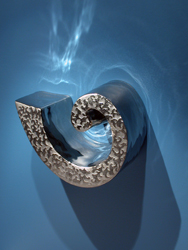 (JDZ Silver Spiral) Aurora: multi-fired ceramic with chrome PVD. Trudy Golley, '07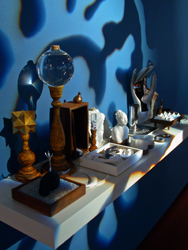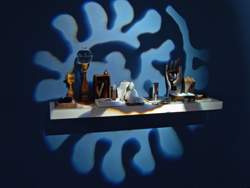 Cabinet, mysterious contents of, 304 (v.3.0): mixed-media installation. Paul Leathers, 2003–'07


---
Works in this exhibition range in price from $1,200 to $10,000 CAD

Paul wishes to acknowledge the assistance of the Alberta Foundation for the Arts.



---



website imagery: © paul leathers 2004–2021, except as noted



CONFLUENS: Flowing Together


The title of our exhibition at the Thunder Bay Art Gallery, CONFLUENS derives from the Latin word meaning, 'flowing together'. Celebrating a decade of living, travelling, working, and exhibiting together, this exhibition surveys both current and past collaborative artworks.