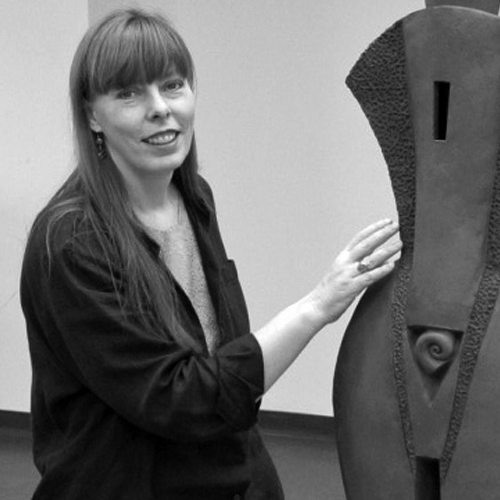 Artist's Statement
"I endeavour to explore and explain the world to myself through the creation of physical objects informed by personal experience. I question the social constructs that have formed and continue to influence me by observing gender stereotypes and the various ways in which they are promoted, ultimately using them as the raw material in a continuing narrative.

Mythologies, both ancient and contemporary, inform an interest in transformation, both metaphorically and physically. This transformation, both literally and figuratively, is reflected through the materials of fired clay and glass fulfilling a story that emanates from the personal.

My work contains architectonic, anthropomorphic and autobiographical elements which, for me, address and challenge active/passive gender roles. The forms, or truncated parts, of the empowered female body have been the subject of my work in recent years. Images of containment—physical, psychological and spiritual—aim to link architectural references, the body and symbolic vessels in a continuous metaphor. I respond to conventional notions of ceramics by incorporating elements such as space and light which often bleeds through openings suggestive of an internal presence and notions of enclosure. For me the use of light is a manifestation of an energy, symbolic of one's inner spirit, offering a sense of mystery.

Many recent works, ironically, employ passive light that activates the figurative aspects of my work as the active subject of female prerogative and desire. The passive light symbolizes a hidden or suppressed aspect of female sexuality that is currently coming back into a position of assertion. The passive light is collected through an open vessel at the top of the form (the head), travels through the main body (the torso/heart) and activates the abdomen (the womb). This symbolic light, as it falls, transforms from a reference to the intellect (bright), then to emotion (glowing), and finally to sexuality (smoldering).

The serial nature of recent work brings together a number of elements that set up a rhythm or a cadence that holds great interest for me. Repetition sets a regularity of the 'vulva bowls' that is offset by the irregularity of the 'cushion or layered paper forms'. For me, it speaks to notions of comfort, decadence, and a fairy tale outlook that stereotypes female social 'success'. Once upon a time it was assumed that all little girls wanted to grow up to be princesses, whether real royalty or within the western socially constructed home kingdom of the mid to late 20th century. For me, this work reveals the unfulfillment that such stereotypes serve to perpetuate."


website imagery: © paul leathers 2004–2021, except as noted



Distance Diploma in Ceramics


Trudy is the North American contact for the Canberra School of Art Ceramics Workshop's Distance Diploma in Ceramics. This innovative program has students from all over North America coming to Red Deer College for the twice yearly on-campus residential portion. Please see their web site for more information or contact Joanne Searle directly.